FREETRACK
Freetrack uses a webcam and markers to detect the player's head movement in order to reproduce those movement in a game.
The principle is similar to the famous TrackIRand to the other software implementation as Freelookand Cam2Pan.
Hardware :
| | |
| --- | --- |
| Camera with a passe IR filter | 4 IR leds, 4 resistances, a pack battery pack |
| | |
Note:
The system may also work with red or white leds and without the pass IR filter. In that case, it will be more sensitive to external disturbance that may corrupt the motion capture process.



Freetrack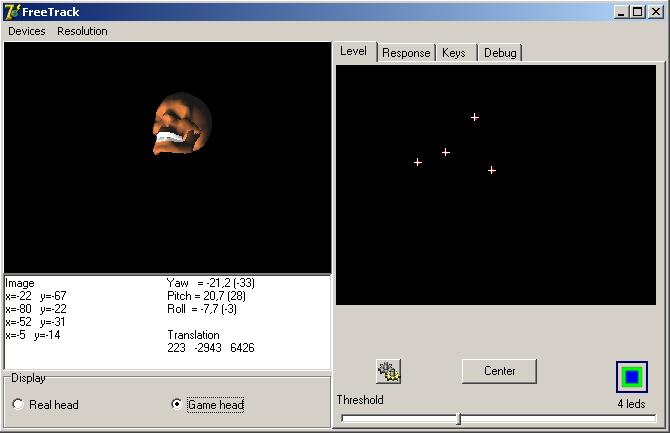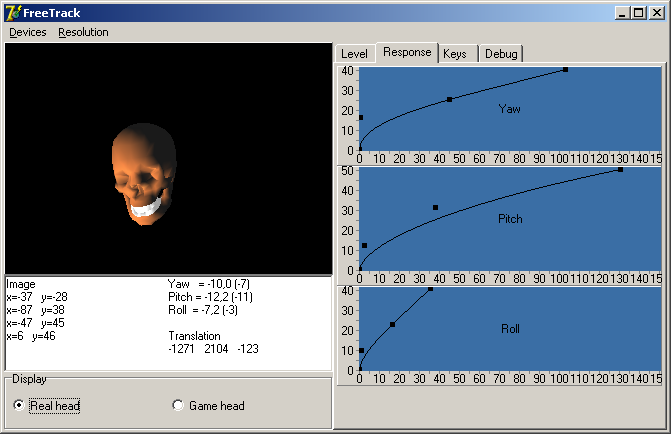 Here is the screen at runtime.
Media
Here is the A10 training mission in Lomac 1.02 with Freetrack.
Lomac_freetrack.7z.001
Lomac_freetrack.7z.002
Lomac_freetrack.7z.003
Lomac_freetrack.7z.004
Lomac_freetrack.7z.005
Lomac_freetrack.7z.006
Lomac_freetrack.7z.007
Lomac_freetrack.7z.008
Lomac_freetrack.7z.009
Lomac_freetrack.7z.010
Lomac_freetrack.7z.011
Lomac_freetrack.7z.012
Lomac_freetrack.7z.013
Lomac_freetrack.7z.014Décompresser avec 7Zip
The same video in low resolution

But Freetack also support 6DOF:
Aces High 2

Live For Speed

Download Freetrack
Installer
Sources
Building instructions
User manual. Thanks to Gweeds


Interface
Freetrack supports most TrackIR games

Links
New Freetrack webpage Thanks to Didja
Support